Bgcall
Bgcall is a nonresident wallpaper changer that is launched from the Windows startup. (It exits soon after changing the wallpaper at the Windows logon.)
Other features are multiple monitors support (individual wallpaper setting), calendar display (merge into wallpaper), manual wallpaper setting, etc.
It can be downloaded from Software page.
Screenshots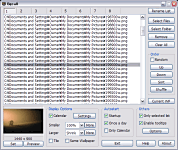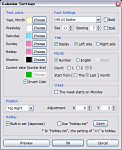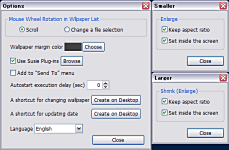 Click the image to enlarge
Features Overview
Supported OS
Windows XP/Vista/7 (32/64bit)
* This software cannot be used in Windows 7 Starter Edition.
Input Formats

BMP

: 1/4/8/16/24/32bit (uncompressed bottom-up DIB)


PNG

: 1/2/4/8/24/48bit


JPEG

: 8bit/24bit


TIFF

: 1/4/8/24/48bit (uncompressed)


GIF

: 1/2/3/4/5/6/7/8bit
Susie plug-ins are available to load other files.
Display Options
Calendar display, Only calendar update,
Image Settings: 100%, Enlarge, Shrink, Tile, Keep aspect ratio, etc
Translations
Swedish (by Svenska språkfiler)
Greek (by geogeo.gr)
Chinese Traditional (by 風逸蘭)
--Thanks to the translators.
Command line options
Parameters
| | |
| --- | --- |
| /s | It exits soon after changing the wallpaper at the Windows logon. |
| /d | It exits soon after updating the calendar. |
| /z | Ignore execution delay setting. specify it next to "/s" or "/d". |
Example:
C:\Program Files\Bgcall\Bgcall.exe" /d /z
Wallpaper for each monitor (when using multiple monitors)
Subsequent monitor wallpaper is assigned in descending order from first monitor wallpaper shown by the list.