Leafier
Leafier is a simple HTML editor with tag insertion feature.
Unicode, tabbed multi document interface, syntax highlighting, etc is supported.
It can be downloaded from Software page.
Screenshots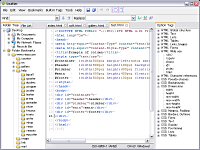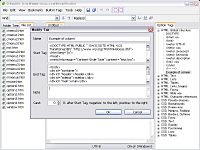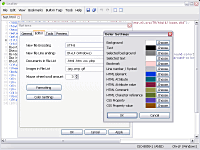 Click the images to enlarge
Features Overview
Supported OS
Windows XP/Vista/7/8 (32/64bit)
Supported character encodings
Unicode: UTF-8, UTF-16 (Little-Endian, Big-Endian)
Japanese: Shift_JIS, EUC-JP, ISO-2022-JP
Western European: ISO-8859-1 (Latin-1)
Editing, Viewing
Tabbed multi document interface, Syntax highlighting
Function about a tag etc.
Select by Ctrl+Click (tag, attribute, property, value, text, etc)
Insert from the menu (can be modified, the number of items: 20)
Insert from the list (can be modified, the number of items: unlimited)
Insert the relative path or img tag by drag-and-drop
Other Functions
Font settings, Color settings, Key customization, Bookmark,
Launch external tool, etc.
Translations
Swedish (by Svenska språkfiler)
Chinese Traditional (by 風逸蘭)
Greek (by geogeo.gr)
--Thanks to the translators.