VarieDrop
VarieDrop generate multiple-size-images in one operation.
The process is started from the drag-and-drop or "Sent To" menu. (Multiple file input is supported.)
It can be downloaded from Software page.
If the setting more than four types is necessary, please substitute it by the following methods.
The use of plural VarieDrop: Copy the installation folder of VarieDrop and make VarieDrop.ini in each folder. (VarieDrop.ini of the folder is loaded with precedence.)
At the time of the use, you will want to start each VarieDrop.exe.
Screenshots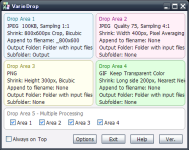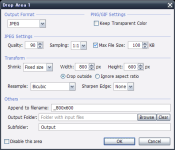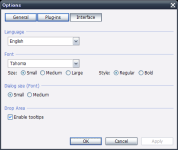 Click the images to enlarge
Features Overview
Supported OS
Windows XP/Vista/7/8 (32/64bit)
Input Formats

BMP

: 1/4/8/16/24/32bit (uncompressed bottom-up DIB)


PNG

: 1/2/4/8/24/48bit


JPEG

: 8bit/24bit


TIFF

: 1/4/8/24/48bit (uncompressed)


GIF

: 1/2/3/4/5/6/7/8bit
Susie plug-ins are available to load other files.
Output Formats


*

Save Options

BMP

: 8/24bit


PNG

: 8/24bit


JPEG

: 24bit

*

Quality, Sampling Ratio, Max File Size


TIFF

: 8/24bit (uncompressed)


GIF

: 8bit
Other Options
Shrink, Sharpen Edge, Append string to output file name, etc
How to Convert
Drag and Drop, Send To Menu * Multiple file input is supported
Translations
Chinese Traditional (by Danfong Hsieh)
Swedish (by Svenska språkfiler)
Greek (by geogeo.gr)
Bulgarian (by karadzha)
French (by LeXav)
Romanian (by filecroco.com)
Russian (by Boriska)
--Thanks to the translators.