Unifie
Unifie is a thumbnail image viewer with dual viewing surface. It has easy-operation and fast-display.
An image is previewed quickly in popup window by clicking a thumbnail.
It can be downloaded from Software page.
Screenshot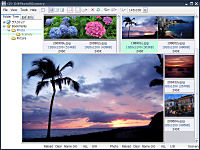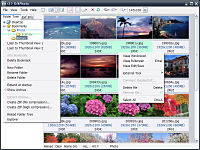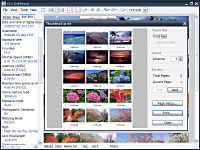 Click the image to enlarge
Features Overview
Supported OS
Windows XP/Vista/7/8 (32/64bit)
Input Formats


*

Display Options

BMP

: 1/4/8/16/24/32bit (uncompressed bottom-up DIB)


PNG

: 1/2/4/8/24/48bit

*

Gamma, Transparency, Background Color


JPEG

: 8bit/24bit

*

Exif Auto Rotation


TIFF

: 1/4/8/24/48bit (uncompressed)


GIF

: 1/2/3/4/5/6/7/8bit

*

Transparency, Background Color
Direct loading from

ZIP


Susie plug-ins are available to load other files or to extract from other archives.
How to View
Select from Folder View, Send To Menu, Drag and Drop
Viewing Functions
Thumbnail View in side by side, Fast display by thumbnail cache, Adjustable thumbnail size,
Popup Preview, Image information, PNG Textual data, Exif Data
Other Functions
Bookmark, Move/Copy/Delete/Rename File, Move/New/Delete/Rename Folder,
Thumbnail Print, Comment Edit (PNG/JPEG), Set Wallpaper, Launch External Tool,
Key/Mouse Customization, Extract/Create ZIP


Using "Vieas" enables Fullscreen, Edit, Save, and Slideshow.


It can be used after setting the location of Vieas.
Translations
Swedish (by Svenska språkfiler)
Greek (by geogeo.gr)
Chinese Traditional (by 風逸蘭)
--Thanks to the translators.